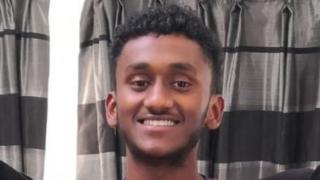 A young man was stabbed to death on a London Underground platform after "looking at" his killer across the tracks, a court heard.
Tashan Daniel was attacked on his way to The Emirates to see Arsenal play Nottingham Forest on 24 September.
The 20-year-old was stabbed on the platform at Hillingdon, west London, with a "lethal" weapon, prosecutor Jonathan Rees told the Old Bailey.
Alex Lanning, 21, and Jonathan Camille, 20, deny murder.
Mr Rees QC told jurors Mr Daniel, who had recently celebrated his birthday, left his home in Hillingdon at 15:30 BST and arrived at the Tube station 20 minutes later.
"It is not disputed that the person who fatally stabbed Tashan Daniel was Alex Lanning," the prosecutor said.
"This was a completely senseless killing. The two men did not know each other.
"They were on opposite platforms, each intending to catch a Tube travelling in a different direction.
"It seems that the catalyst for the violence that led to the stabbing was that Mr Lanning thought Tashan Daniel was looking at him across the rail tracks."
Mr Lanning left one platform to make his way to Mr Daniel who was with his friend, Treyone Campbell.
While walking over the footbridge he met Mr Camille and the pair confronted the Arsenal fans, Mr Rees said.
"What Mr Lanning knew, but neither Tashan Daniel nor Treyone Campbell could have known, is that Mr Lanning was armed with a lethal weapon, namely a specialist Aviator 1 knife."
'Five seconds of fighting'
The weapon, shown to the jury, was a £200 German-made knife "designed for NATO military aircraft rescues with the capacity to saw through laminated glass and cut through seatbelts", Mr Rees said.
Witnesses said it took five seconds of fighting for Mr Lanning to "brandish" the knife, jurors heard.
"There came a point when Mr Lanning was behind Mr Daniel with his arms hooked around him.
"As Mr Daniel swivelled to face his attacker, Mr Lanning thrust the unsheathed knife deep into his chest."
Fatally wounded, Mr Daniel staggered on to the train where he collapsed, bleeding heavily, the court heard.
As the defendants ran away, one passenger said Mr Lanning appeared to be "laughing under his breath", Mr Rees said.
Mr Daniel's father, mother and sister arrived at the station to watch paramedics pronounce Mr Daniel dead on the train 25 minutes after he arrived at the station.
Mr Lanning hid the sheathed knife under a paving slab and the pair discarded their clothes on the Auriol Drive estate, the prosecutor told the court.
"Before leaving the estate, the defendants helped themselves to a pair of pyjamas and a couple of towels from a clothes horse that was outside someone's front door," Mr Rees added.
Three days after the stabbing, Mr Lanning sold his iPhone for £390 and a police investigation of the estate found the knife and the discarded clothing.
The defendants were arrested on 4 October.
The trial continues.
July 15, 2020
Categories: